Company Profile
AN ISO 9001 : 2008 Company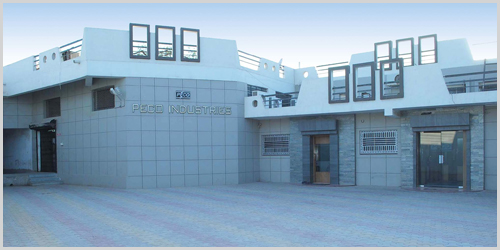 We introduce ourselves as one of the leading Electrical Switchgear manufacturing & Exporting Company in India with its foundation laid way back in 1989. The founder, Shree Shaileshkumar Shah laid a firm foundation in the year 1989 with a vision to develop quality products in the electrical sector. Right from its inception till now, the organization has made steady progress in successfully developing and marketing various switchgear products; the focus has always been quality products and manufacturing processes with a difference.

Peco Industries is an ISO 9001: 2008 certified company with strict adherence to quality management systems implemented in various departments such as Purchase, Production, Development, Quality Control, Sales, Personnel and Maintenance. Besides, all the products manufactured confirm to technical guidelines laid down by Bureau of Indian Standards.

We proudly claim to be the first and only company in India to get ISI certification for AC Air Break Contactors, Thermal Overload Relays and Direct On Line Motor Starters.

Salient Features of Company & Its Products:


An ISO 9001 : 2008 Company.
All our products are tested by very reputed Government test houses like CPRI (Bhopal) and ERDA (Vadodara).
All our products are indigenously developed in- house based on time tested technology and design.
We have test facilities available in-house for routine as well as type tests as per Indian Standards.
We have our own well established Tool Room, Machine Shop, and Assembly Line due to which we are able to manufacture all the components in house required for our entire range of products.
All our products are quality products provided with QC seal.
Our work force comprises well –qualified, trained, experienced technocrats and skilled workers.
We procure raw materials and components with relevant test certificates from reputed suppliers/Vendors, which indicates our no-compromise attitude towards quality.
Since our products are ISI Marked, We are pleased to inform that our products are approved and used by various Central as well as State Government Department such as Electricity Boards, Municipal Corporation, Railways, Coal Mines, ONGC Limited, Water Supply & Sewerage Board, Sugar Factories, etc. and private Customers.
All products are manufactured in conformity with International Standards, which assures reliable quality and high performance.
Quality Policy:- Customer satisfaction, PDCA approach,Well documented manufacturing process and inspection of materials at each and every stage, Compliance with IS specification, continuous quality improvement and Total quality & employee management.
The asset of the company are the people we hold who are always ready to accept new challenges and believe in customer satisfaction philosophy. This has been instrumental in our steady and enviable growth during the last decade.